When Zillow.com launched its website in 2005, the world was a buzz with the company's ability to bring appraisals, called Zestimates, to everyone's fingertips. It was fun to type in your own home address, or that of your colleague's or boss's house to see what they paid. Some of the estimates were way off and were course corrected by owner's ability to log on, claim one's home, and update the data will all relevant features under oath.
Zillow empowered buyers to become smarter shoppers by understanding comparables and knowing when and at what price the house was last sold. When you know the seller paid $1,000,000 at the top of the market for example, you know it would be ludicrous to pay more by definition. Zillow brought once exclusive information, available only to real estate agents and people who paid for it to the masses. There was hope for an industry which generally is maligned for it's two-faced ways, shady appraisal practices, and aggressive lending standards.
My biggest hope was that Zillow would make the markets more efficient for buyers and sellers, thereby cutting out a lot of unnecessary middlemen, and ultimately lower fees from 5-6% down to perhaps just 1-2% of selling price. Boy was I wrong.
Zillow Could Have Helped The Industry
Zillow has created a heard of zombies who rely on their zestimates to tell them what value a particular property is. Here's a news flash for all of you: A property is only worth what someone is willing to pay for it. As a seller, you can't go around sticking to a selling price because Zillow or your real estate agent said your house is worth $1,000,000. If nobody has bought it after 6 months, it's definitely worth less!
Buyers are no better when it comes to relying on Zestimates. A big problem with Zillow's database is that it is based off comparable sales. In the downturn, volume dried up, making real-time comparables hard to find. All the data is lagging. Feel free to pull up estimates around the entire neighborhood to educate yourself, but if you have only one or two sales in the past 6 months to a year, they are hardly reliable.
Eratic Estimates
I've had Zillow increase the value of my house by 23% during the housing collapse. As we begin to recover, their estimate has gone down by about 7% from the peak. One of my rental properties also skyrocketed by about 25% during the housing downturn to about 50% higher than when I purchased it 4 years earlier. Now the estimate is only about 17% when I've seen comps trade at 40% higher this year. And one of my other properties can't even get a Zestimate, even though there are many units in that building and is located in one of the best places in Lake Tahoe.
The point is, anybody trying to buy my properties during the multi-year downturn would be scratching their heads at ever increasing prices. In fact, anybody trying to buy any property using Zillow during the downturn would be misled. Now that prices are recovering with all the pent-up demand, low rates, and internet money, my estimates are declining. Go figure. There is a serious lag and volatility in their estimates.
Zillow's best use is for trying to figure out what the seller paid and when. Their Zestimates and Rent Zestimates give ball park figures, but they are just one of many considerations one should take before setting a price.
The Biggest Problem With Zillow
The biggest problem I have with the real estate industry is not the shady appraisers, or the unscrupulous agents whose motto is, "It's always a good time to buy, or sell real estate." No. The biggest problem I have with the real estate industry is the absolutely ridiculous 5-6% selling fee the homeowner has to pay the real estate agent.
If it costs $10,000 to sell a $200,000 home, does it really cost $40,000 to sell an $800,0000 home based on a 5% selling commission?! One could argue that it might take more effort to sell the $200,000 home, because it is likely in a less desirable, or lower demand area. Imagine if you owned a $2 million home, which is quite typical in places such as San Francisco and New York City. Are homeowners really expected to pay a whopping $100,000 to sell their home? This is utterly ludicrous and something that companies like Zillow, Trulia, and Redfin should have fixed. But they haven't. Why is this?
The reason is simple. Zillow is in cahoots with the real estate industry. They derive advertisement revenue from real estate companies and agents who want to use Zillow's platform to broadcast their services and homes for sale. 74% of Zillow's revenue comes from fees agents pay for customer leads and apartment leads, 8% comes from fees banks pay for mortgage leads, and 18% comes from advertising based on their latest 3Q2014 earnings results. As a result, Zillow goes limp dick on the fight to lower selling costs for sellers, which ultimately creates higher prices for buyers.
One of the biggest reasons homes remain illiquid and turnover remains low is transaction costs. If it only cost $10 bucks to sell your home, you'd probably be more willing to sell. But if it costs $50,000, you'll think twice and might be stuck and lose money because of it. If the industry can drop down to a fixed fee model, or a scaling percentage fee which declines as the price of your house goes up, that would go a long way into helping the industry get out of its funk. The barriers to selling is just too high.
My proposed selling fee structure is simply $2,000 for every $100,000 value range in a home up to a $1,000,000 value cap. Hence, a $500,000 house will cost $10,000 to sell (2%). A $1,000,000 house costs $20,000 to sell (2%). While a $4,000,000 house also costs $20,000 to sell (0.5%). Sounds like a great solution doesn't it? Bring it up to any real estate agent and they'll scoff.
Recommendations
Shop around for a mortgage: Check the latest mortgage rates online through LendingTree. They've got one of the largest networks of lenders that compete for your business. Your goal should be to get as many written offers as possible and then use the offers as leverage to get the lowest interest rate possible. This is exactly what I did to lock in a 2.375% 5/1 ARM for my latest refinance. For those looking to purchase property, the same thing is in order. If you've found a good deal, can afford the payments, and plan to own the property for 10+ years, I'd get neutral inflation and take advantage of the low rates.
Explore real estate crowdsourcing opportunities: If you don't have the downpayment to buy a property, don't want to deal with the hassle of managing real estate, or don't want to tie up your liquidity in physical real estate, take a look at Fundrise, one of the largest real estate crowdsourcing companies today.
Real estate is a key component of a diversified portfolio. Real estate crowdsourcing allows you to be more flexible in your real estate investments by investing beyond just where you live for the best returns possible. For example, cap rates are around 3% in San Francisco and New York City, but over 10% in the Midwest if you're looking for strictly investing income returns. Sign up and take a look at all the residential and commercial investment opportunities around the country Fundrise has to offer. It's free to look.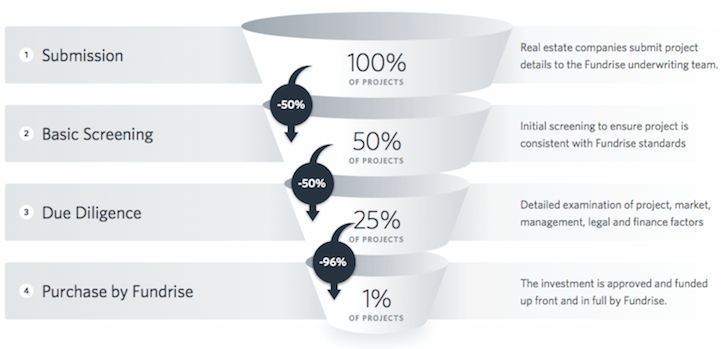 Less than 5% of the real estate deals shown gets through the Fundrise funnel
Updated for 2020 and beyond. Zillow hurt itself by buying a real estate business that buys and sells homes, instead of keeping its asset light model. Bad timing as expensive coastal city real estate is weakening.
Thinking about what you entered……..
You are in!
Please try again!
Contact links


David Mead 



Freelancer for Structural/Civil Engineering projects 
Upwork - Click HERE 
FIVERR -Click HERE
You can see my projects on youtube or on my Google Drive account
Google Drive 
Youtube