There will be another post regarding the best time to buy a property during special times like this "illness" of 2020,so stay tuned!
To answer the title,the best time when you should buy a property is when others are not.In different words,when nobody else is buying.
So ,the best time in normal times is when it is winter,because listings in this season reek with desperation…..Why,you ask?
Because every savvy buyer knows that, if the seller was not desperate he would wait a few months and sell it when everybody is buying.
The best time to buy property
After studying the market and being an active part in the domain of Real Estate for a number of years, I can tell you that the best times to buy are in the months of :December–January and February!
Let me list a few reasons why:
You can See property at it's worst! In other words, if you like the property then,in the winter months,then you are going to LOVE it in all other seasons!In the winter,the property is subjected to the hardest and harshest conditions .You should AND CAN test all the windows,the state of the pipes and, let's not forget the insulation. Also, you can see the actually property in the state of use, and if you look beyond the boorish carpet you can see beautiful oak floors.
The Desperation of the seller! Given what I talked above, we know now that the seller needs money,or else he would wait.Armed with this information ,we can use it to our advantage :D, economically speaking!
No buyers! Because everybody is focused on holidays and getting gifts,and the weather is against the normal enthusiasm for buying a house!
Since the interest rates are down this year, this is a great time to take (during normal times) money from stocks and put it in Real Estate.
But there is a lack of supply…?
You need to know that there a plenty of houses that you can choose from during this winter period.
With a simple and quick look on specialized websites like Zillow or Redfin you can see this is true.
Also, because the agents are eager to sell, they will try to convince the actual owners to try to list their property then,in the winter times, because there are less homes on the market!While I can see the merit of this selling point,because I observed the markets for more than 20 years I can confidently say that in normal cities like NY,SF a.s.o the demand is far greater in other seasons comparing with the winter season.
You therefore need to be aware that, even though you house is in perfect condition, trying to sell it during the winter time will carry a stigma.Furthermore, the families with children will not be interested in your listing because they tend to move only during the summer season.
Another tip that I can offer is that you need to know what "stale fish" is. Once a house has stayed on the market for more than 60 days it becomes labeled as "stale fish".Stale fish properties lose their emotional connection with potential buyers as the buyers start wondering what is wrong with the property. When buyers no longer feel emotionally connected, they stop making offers.
The best time to buy property is also the worst time to sell. People are creatures of habit. They will make new year's resolutions to buy property. They will also tend to look for ways to spend their year-end bonus money, which often gets paid in February and March.
It is very hard to be a real estate buyer in December or January when your bonus money has not hit your bank account yet.
Real Estate Price Performance By Month
Below is a great chart by the Federal Reserve and Census Bureau that shows the median price and median days on market before closing for homes by month.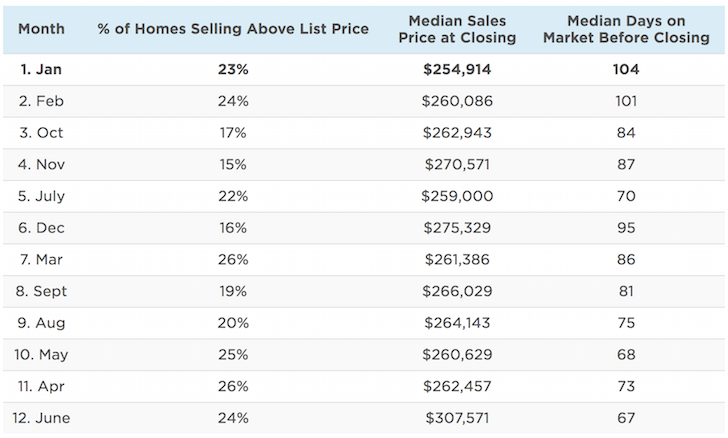 Based on the data above, you can see empirical evidence showing January has the lowest median sales price at closing and stays on the market the longest = the best time to buy a home. February is also a great time to buy a house as well.
Conversely, June is the worst month to buy a property due to its highest median sales price at closing and shortest days on market.
In addition to finding a home for sale during the depths of winter, you should also look for a sale due to a divorce, a job loss, or a liquidity crunch.
You can find such information out by simply inquiring with the hungry real estate agent eager to make a sale. Be opportunistic and take advantage of desperate scenarios if the math works. As a prodigious wealth accumulator, this is your sacred duty!
Recommendations
Explore real estate crowdsourcing opportunities: If you don't have the downpayment to buy a property, don't want to deal with the hassle of managing real estate, or don't want to tie up your liquidity in physical real estate, take a look at Fundrise, one of the largest real estate crowdsourcing companies today.
Real estate is a key component of a diversified portfolio. Real estate crowdsourcing allows you to be more flexible in your real estate investments by investing beyond just where you live for the best returns possible. For example, cap rates are around 3% in San Francisco and New York City, but over 10% in the Midwest if you're looking for strictly investing income returns.
Sign up and take a look at all the residential and commercial investment opportunities around the country Fundrise has to offer. It's free to look.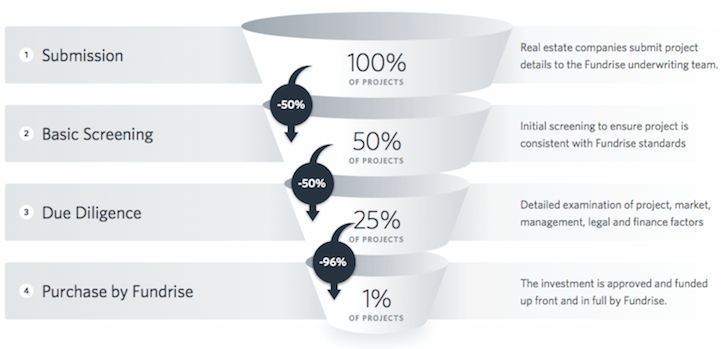 Shop around for a mortgage: Check the latest mortgage rates online through Credible. They've got one of the largest networks of pre-qualified lenders that compete for your business. Your goal should be to get as many written offers as possible and then use the offers as leverage to get the lowest interest rate possible. You'll get free, real quotes in under three minutes. With interest rates at ALL-TIME lows, now is an incredible time to refinance or take out a mortgage to buy real estate.
Updated for 2020 and beyond.
Thinking about what you entered……..
You are in!
Please try again!
Contact links


David Mead 



Freelancer for Structural/Civil Engineering projects 
Upwork - Click HERE 
FIVERR -Click HERE
You can see my projects on youtube or on my Google Drive account
Google Drive 
Youtube